2018 - Mac&Milestones
The rundown of the best year yet…
When we sat down to reflect on the sort of year we'd had 2018 apparently lasted for about 3.5 seconds. It has FLOWN by and before we shut up shop and head to our respective homes, we have taken a look back through the archives to share some of our highlights.
Our Work
We share a lot about our amazing network, the partnerships we've built and the mentoring we've been up to, and have done ever since day one. What we haven't talked a lot about is our work… we've been beavering away behind the scenes and cracking on with our heads down and focusing on delivering for our clients.
Well in 2019 that's going to change. We're finally ready to share the work we've been doing, and will continue to do with some truly game-changing brands. Projects we're really proud of and that show off exactly what Mac&Moore have to offer start-ups and disruptive businesses.
This year we worked with some brand new and totally brilliant clients along with strengthening and building on our relationships with brands such as blowUP media, Outlook media and Talon who are continually changing the game in media and advertising. We've worked with them to raise the profile of the brand and the team through thought leadership and content creation, support them in defining their products and creating interesting narratives for them to be communicated to the market and strategic launches and activations throughout the year to help them engage with their customers.
Some of the new additions to the Mac&Moore roster included:
British Library – We partnered up with CLO PR to deliver PR and thought leadership strategy and activation around their Start-Up Day in September. We got to interview some amazing ambassadors such as Julie Deane of the Cambridge Satchel Company and Dr. Anne Marie Imafidon, Founder of Stemettes and secured extensive coverage in national press and on platforms such as The Huffington Post and Minutehack.
Spinview – Earlier in the year we began working with Spinview, a VR/AR technology platform to rethink how business is conducted in the real world. We've been working closely alongside CEO and co-founder Linda Wade and have loved the opportunity to work with a female founder in the (usually heavily male-dominated) tech space. We've created a whole new brand proposition and positioning for the business including a fresh new visual identity which will help them appeal more strongly to their customers. We absolutely believe by building strong and solid foundations it's the best way to help businesses stand out, be remembered and grow, that's why we're excited to continue working with Spinview in the new year to support their growing team and build on what we've started.
Partnerships/Community
We are big believers that no freelancer is an island, and the self-employed life can be a lonely one at times. We are fortunate enough to have each other to lean on when the going gets tough but have a lot of admiration for those flying solo. We have built some incredible, valuable and wholeheartedly life-affirming partnerships with amazing individuals this year. There are amazingly too many to mention all here but we wanted to give some extra special shout outs to certain individuals who've made our year just that little bit better…
Maddy Russell – Maddy is an incredibly talented designer who has recently been working with us on refining our brand and if you sign up to our mailing list through our website you'll see some of her work very soon in the form of our monthly newsletter, Mac&Mail. She's a past winner of a D&AD pencil and definitely one to watch in 2019, we definitely plan to send plenty more work her way!
CLO PR – We formed our fierce alliance in 2017 but made things much more official this year by launching our joint manifesto outlining the specific actions we were going to take to improve the landscape for women, provide a platform for people on their way up and create positive impact. We have also combined marketing and PR powers on several projects throughout the year. We love Clo's energy, tenacity and attitude towards her client work and her ambition to succeed and the world better watch out next year, we're coming for ya!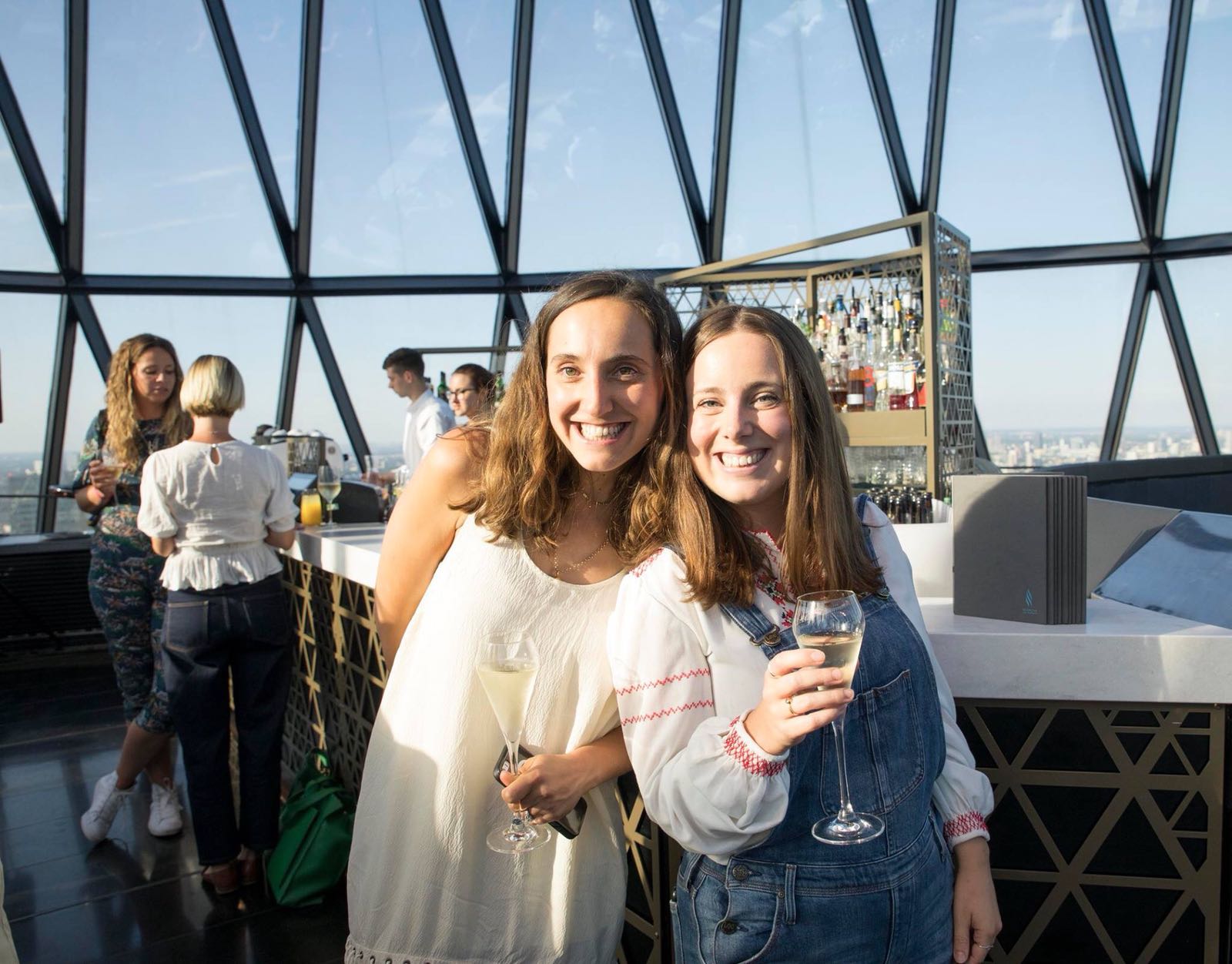 The Doers - We worked on a very exciting proposition for a new kind of network founded by Jess Sims and Laura West. The Doers officially launched in November and they are already racking up the client list and building out a group of 'Doers' who are a serious force to be reckoned with. We're excited to see how they build on this strong start next year and beyond.
She is Fierce - We recently took a trip up to Edinburgh to meet the force-to-be-reckoned-with, Hannah Taylor. She single-handedly founded the beautiful She is Fierce magazine which we have just been featured in (buy your copy here), The Noisy Girls Club community and most recently The Founding Babes Collective which we were delighted to be asked to be a part of. We've signed up to a whole year of delivering workshops, creating resources, hosting Facebook Lives and carrying out 1-2-1 mentoring to help other creative women achieve their marketing goals and get their businesses off the ground.
Studio Noel – We've worked with Michelle from Studio Noel on the Spinview project during the latter part of this year and have been blown away by her creativity, professionalism and all-round outstanding work. It has been a real testament to what can be achieved when marketing and design work seamlessly together rather than act as separate channels and the brand we've built is something we're incredibly proud of and can't wait to share more in the new year.
#ContentClubUK Crew – Nat stumbled upon this motley crew entirely by accident. Every Tuesday morning at 11am there is a stimulating and educational digital chat on Twitter with marketing experts from all over the country who share a love of content… and biscuits. Being asked to host one week was a real highlight of the year and it's been amazing to be able to bounce ideas around, share knowledge and learn from some of the best around.
Vinyoga – Community is incredibly important to us. Particularly in the freelance world it's easy to feel isolated, overwhelmed or stuck on where to go next. That's why it's so important to feel like you're part of something bigger than just you with your great business idea. The freelance community are such a lovely, positive supportive group and it's been amazing to see how willing people are to help each other out. Jess has worked with Angie who runs a yoga studio in Deptford to help rebrand and reposition and we can't wait to see her launch her new community focussed brand in the New Year… Watch this space!
The Female Focus – We came up with the idea for this blog series mainly because we are incredibly nosy and liked to sit and chat to other women about how brilliant they are and learn all about their journey to success. Nosiness has definitely paid off as we've now interviewed over 30 women from all different backgrounds and industries and have loved sharing their stories. Thank you so much to everyone who has taken part and taken the time to complete the interview, we are obsessed with each and every one of you. You can read them ALL here.
Finally, a couple of highlights we are particularly proud of from a more personal perspective:
Nat was over the moon to hear she'd been shortlisted for a WACL Future Leaders award and we're keeping everything crossed for a win to be announced at the end of January

Jess secured an amazing mentor through the SheSays network, Lindsey Clay at Thinkbox and is working closely with her to drive our business forward and help us define a clear path to getting to where we want to be

Both of us headed out of the London bubble to give talks/appear on panels at universities on the role of marketing and the creative industries

We joined The House of St Barnabas in Soho. Not only is the house absolutely beautiful and a place we can work and meet clients, but it is run by a charity that are working to end homelessness and part of the membership fee funds a homeless person to undertake training and get off the streets for good. To find out more about their work click here, or if you want to join us down there for a wine in the new year, let us know!

In May we were approached by The Independent to comment on the news that Ashley Judd was suing Harvey Weinstein for damaging her career. You can read the article here if you missed it the first time around. We're of the opinion that change will only come from action, so contributing to conversations we believe in is just one way we're trying to create positive impact through our work and beyond.

We relaunched our website thanks to Cat at Gatto Web. We spent a lot of time rethinking about our offering, streamlining our services so it was exciting to finally launch the website and see how Cat had brought our vision to life.
So there you have it. What a year it's been and after a suitable rest and a visit from Santa (hopefully no coal!!) we'll be ready to hit the ground running in 2019 to build on what we've started and hopefully hit some brand new heights.
To everyone we've met, worked with, collaborated with or fan girl'd over on social media… we want to say a massive thank you and an even bigger Merry Christmas.